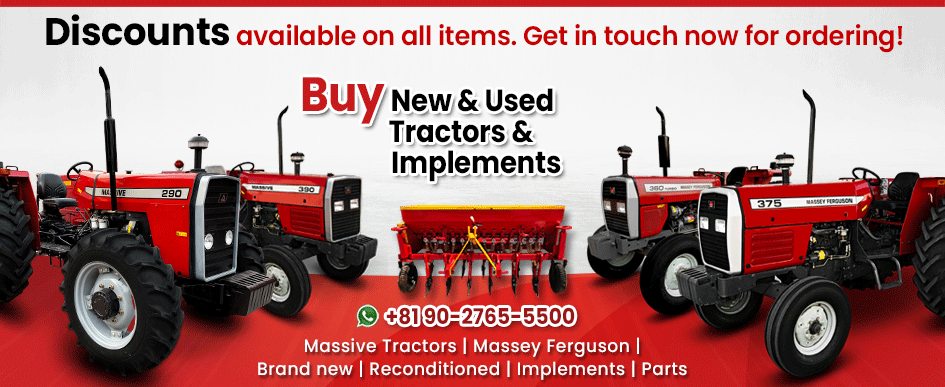 New & Used Tractors for Sale in Sierra Leone
Brand New Massive Tractors
Combine Harvesters for Sale in Sierra Leone
Tractors Available in Japan
Brand New Massey Ferguson Tractors
Brand New New Holland Tractors
Farm Implements in Sierra Leone
Welcome to Tractor Provider Sierra Leone, the effective solution to your agricultural problems.

We are offering Massey Ferguson Tractors and New Holland Tractors, belonging to a varied range of horsepower. These tractors serve to be the ultimate solution for the farmers in several towing and weighing operations. Besides tractors and farm implements, other crucial agricultural machinery and accessories are also a part of our massive inventory. Furthermore, the used Japanese tractors that are exclusively available at our online stores are considered to be the most budget-friendly investment for African farmers.

At Tractor Provider Sierra Leone, we believe that the agricultural labor force should not exert themselves too much, rather they should save their energy and efforts by adopting modern agricultural practices which will help them bring about increased food production. Modern agricultural equipment are available at our online store of Sierra Leone, in both used and brand new conditions. The used combine harvester is so far the best agricultural asset for the farmers as it can simultaneously act as a reaper, winnower, thresher, and gatherer, all at once.

Economic reliance on the agriculture sector

The economic development of any country is largely parallel to the contribution of its agricultural sector. Similarly, the economic stability of Sierra Leone is largely reliant on its agriculture since it contributes more than 47.9% to the country's GDP. Besides, the agriculture of Sierra Leone is responsible for providing innumerable employment opportunities to its citizens, helping the country in becoming potentially stable on its own resources.

Tractor Provider Sierra Leone is the ultimate supplier of upgraded farming resources and tractors which cater to the agricultural needs of the farmers by reducing their manual input. For the continued agricultural and economic stability of Sierra Leone, farmers should make use of modern and mechanized farming tools. These farming tools are available in huge stock at affordable prices at Tractor Provider Sierra Leone.

Sierra Leone is a country that is endowed with favorable agriculture conditions such as favorable climate, adequate rainfall, and arable land. For acquiring full benefits via its agricultural system, a fully devised agricultural system should be maintained, which is responsible for the adequate supply of essential agricultural machinery. These agricultural resources are easy to operate on one hand, while on the other hand require less workforce and makes farming easier and more fruitful, while saving costs.

The services of our company

Our company, Tractor Provider Sierra Leone, is currently expanding its business operations in Sierra Leone via its online platform. It provides the best-mechanized solutions to the agricultural needs of the farmers, giving them numerous opportunities to yield better and reap better. With our advanced and technology-equipped agricultural machinery, the farmers can ease their hectic workload by speeding up their seeding and harvesting processes.

Our tractors and farm implements are highly popular due to their enhanced quality which can boost the agricultural output for the farmers. Our modernized and customized farm implements are exported to Sierra Leone and serve the farmers with excellence and beyond.

Our massive inventory won't disappoint you and you will surely find the right agricultural instrument as per your budget. Go check it out now!