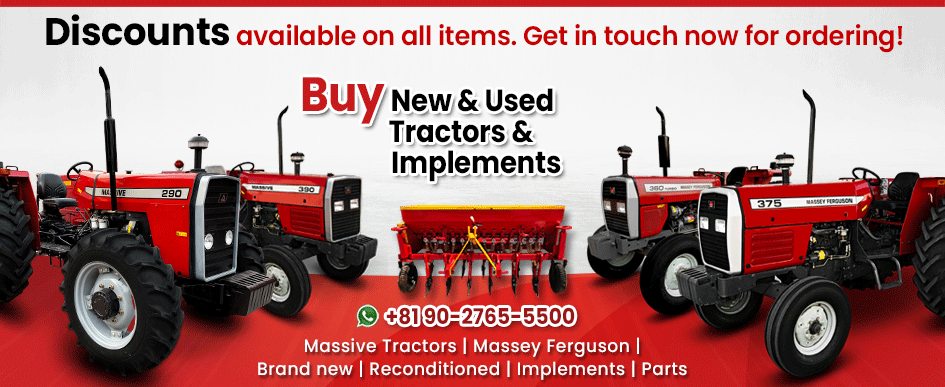 New & Used Tractors for Sale in Rwanda
Brand New Massive Tractors
Combine Harvesters for Sale in Rwanda
Tractors Available in Japan
Brand New Massey Ferguson Tractors
Brand New New Holland Tractors
Farm Implements in Rwanda
Welcome to Tractor Provider Rwanda

If you are looking for a reliable source for the supply of authentic agricultural machinery in Rwanda, you have landed on the right page. Tractor provider Rwanda is your go-to online store for finding the perfect tractor match as per your needs. We offer classic as well as the latest tractor models to the underprivileged farmers of Rwanda where agricultural resources are scarce. Besides tractors, we offer a full range of farm implements and other agricultural machinery that reduces the hectic load of farmers by easing the agricultural tasks.

Our farm implements are brand new, can be adhered to the tractors of required horsepower, and perform numerous agricultural functions to yield crops in minimal time. We provide the Rwandan farmers with new techniques to deal with agricultural issues such as pest control, using hydraulic sprayers. Our used Japanese tractors are crucial for farmers which are looking for a credible tractor, and having a restricted budget.

Economy and Rwandan Agriculture

The economy of Rwanda is quite dependent on its agriculture as it accounts for 39% of the country's GDP. Besides GDP, agriculture sustains 90% of the food requirement of the country, 63% of worthy foreign exchange, and 80% of the employment opportunities on the whole. The agriculture of Rwanda has been able to eradicate or at least lower the poverty rate of the country. The cash crops of Rwanda include coffee, tea, cassava, wheat, banana, sugarcane, pyrethrum, Irish potatoes, beans, and flowers.

The agriculture of Rwanda has been able to contribute solely to its economic development as its soil is very fertile, approximately 61%of its soil is fertile and is perfect for crop cultivation.

To facilitate economic development, the fertile land of Rwanda should be used to the fullest. Tractor Provider Rwanda is capable of helping farmers utilizd their agricultural land to the fullest, by supplying them essential farming tools, enabling them to maximize the yield of their crops with reduced strenuous efforts. Our Massey Ferguson Tractors and New Holland Tractors have become the foremost choice of farmers because of their versatility and strength with which they can cater to agricultural and commercial needs.

The motive behind our company

Long gone are the days when the farmers lacked technological resources and had to perform every agricultural task by hand. The motive behind Tractor Provider Rwanda is to provide the best farming solutions to the farmers to give them the opportunity to sow more and yield more. The supply of combine harvesters and powerful tractors has revolutionized the agricultural sector, by creating enormous opportunities for farmers for earning a better livelihood for themselves. We have been operating in a number of countries, creating a multitude of reliable and trustworthy clients. Our agricultural machinery is superlative in terms of quality and is available at pocket-friendly rates.

We will never let you down as our inventory is quite huge and you will definitely find the perfect agricultural tool. Browse through our online inventory and get your expectations fulfilled.