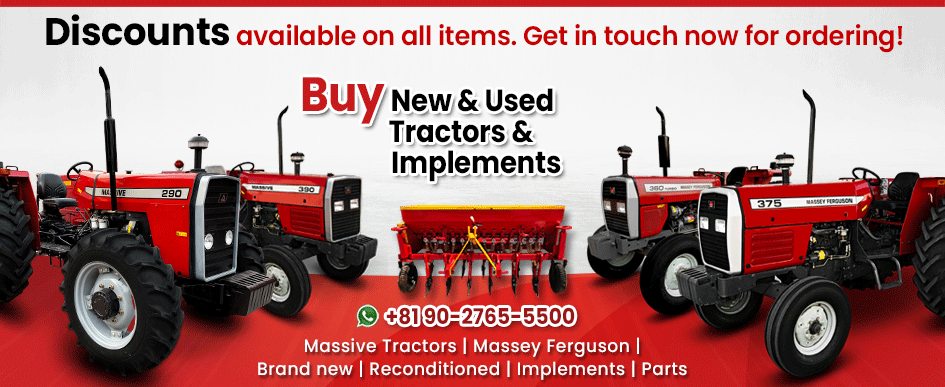 New & Used Tractors for Sale in Antigua
Brand New Massive Tractors
Combine Harvesters for Sale in Antigua
Tractors Available in Japan
Brand New Massey Ferguson Tractors
Brand New New Holland Tractors
Farm Implements in Antigua
Welcome to Tractor Provider Antigua & Barbuda

We welcome you to Tractor Provider Antigua and Barbuda, a web store, serving thousands of clients locally and millions of customers internationally regarding their everyday pursuit for agricultural machinery. We aim to bring the best possible farming solutions to the facility-deprived farmers in their ongoing struggle of increasing their crop yields. Our services combat the problems that farmers have to face, reducing their hectic workload and enabling them to live a prosperous life.

Our farm implements are of the highest quality, performing various cultivation processes such as mowing, gardening, ploughing, reaping, etc. with such accuracy that in turn increases the overall productivity of the farmers. We bring the best resilient tractors to Antigua and Barbuda, namely Massey Ferguson Tractors and New Holland Tractors. These tractors are heavily built and are sturdy enough to tow and weigh the heaviest of objects, thus easing the farmers' tasks significantly.

Agriculture is the only economic solution

A number of countries that are economically stable have had their agricultural sector developed and blooming. Similarly, one of the factors contributing to the booming economy of Antigua and Barbuda is agriculture. It is estimated that agriculture in Antigua and Barbuda is responsible for the livestock and employment opportunities to some 10,700 persons on the whole. Besides, agriculture is also responsible for huge exports to Japan, Canada, and other Caribbean countries, bringing rewarding foreign exchange necessary for the economic development of the country. Cotton, coconuts, hot peppers, vegetables, bananas, etc. are the major exported crops.

For the persistent stability and economic uplift of the country, Tractor Provider Antigua and Barbuda assures the guaranteed supply of the absolute agricultural machinery including used Japanese tractors, combine harvesters, farm implements, and roughly built Massey Ferguson Tractors, that have been aiding the agricultural and industrial professionals in their everyday arduous tasks while conserving energy to a maximum.

Our company and its products

Our company is a trusted and registered tractor dealer company, operating in a number of countries for decades, delivering remarkable and versatile quality tractors and associated farm implements, catering to the agricultural services. Our farm implements diligently work with and without the compatible tractors thereby increasing the productivity of the tractors. The farm implements that we possess belong to a diverse range of HPs, therefore can be adhered to a vast variety of tractors both compact and large-sized tractors.

The local and international farmers can get the best cost-friendly tractor depending upon their budget and needs and they will never regret buying from us as our tractors are exemplary, resilient, and credible enough to increase crop yields significantly. Furthermore, these tractors belong to highly reputable brands, hence their quality is top-notch. Besides, our farm implements assist the farmers in every farming task, completing them in minimal time and with minimal effort.

Contact us now through our live chat feature, gain much insight into the agricultural machinery available and ease your everyday agricultural tasks.