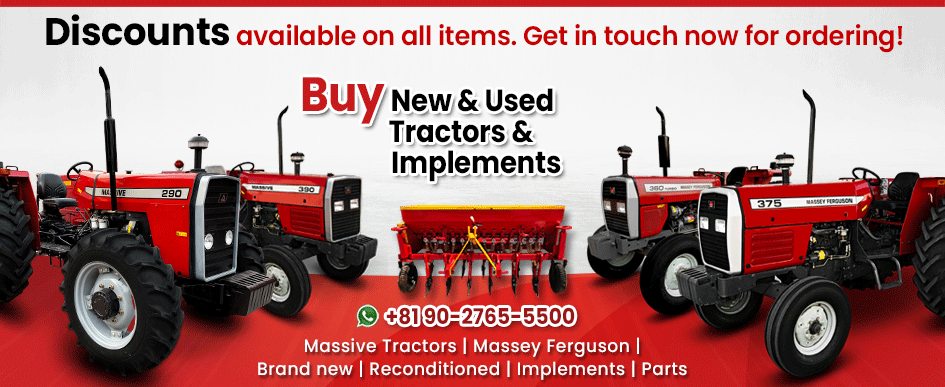 New & Used Tractors for Sale in Kuwait
Brand New Massive Tractors
Combine Harvesters for Sale in Kuwait
Tractors Available in Japan
Brand New Massey Ferguson Tractors
Brand New New Holland Tractors
Farm Implements in Kuwait
Welcome to Tractor Provider Kuwait

Tractor Provider is now available online in Kuwait. Our company is devoted to bringing the same level of quality to the farmers in the Middle East as we have to the Africans. Tractor Provider Kuwait is a platform that allows the local farmer to get an upper hand in farming crops, by providing them with state-of-the-art agricultural machinery.

Our goal is to simply help the native farmers get the best out of their farming endeavors, as we make farming simple and easy by providing the farmers with tractors and farm implements that efficiently seed, harvest, thresh, and do many other operations simultaneously.

Agriculture Scene in Kuwait

Kuwait is a prosperous country when it comes to the economy. Oil and gas alone account for about 40 percent of the GDP and about 90 percent of export revenues. Kuwait has proven crude oil reserves that are estimated to be around 9% of the world's reserves. You might wonder, why the need for agriculture in a country that has the fourth-largest oil reserves in the world? Well, having a rich economy is one thing and being sustainable is another.

Why the need for agriculture in Kuwait?

Kuwait is a rich country per se, however, when it comes to food crops, they export most of it at a great expense. To counter this issue, Kuwait can produce its crops and become self-sufficient in food. The major crops of Kuwait include vegetables, potatoes, and grains.

Kuwait is at a high risk of food insecurity as it heavily relies on food imports due to its relatively low crop production. We, at Tractor Provider Kuwait, aim to make Kuwait a self-sufficient country by providing them with the proper gear. This would support their agricultural needs and help lower the risk of food insecurity.

Tractor Provider Kuwait – A representative of major tractor brands

Tractor Provider Kuwait is an online dealership that has been working with world-renowned companies. We have Massey Ferguson tractors for sale in Kuwait, New Holland tractor lineup is also one of our highly affordable tractor series. Moreover, we have a wide range of Japanese tractors, used and new. Also, our Kubota combine harvesters are your best companion during the harvest season. All of our tractors come in various models and HPs and in both second-hand and brand-new conditions.

When talking about Farm implements, we have many demanding implements that make your daily farming tasks a piece of cake. These implements include the likes of ploughs, farm trailers, lawnmowers, hole diggers, agricultural loaders, cultivators, cranes, planters, rakes, and many more.

History with our customers

We, at Tractor Provider take pride in our customer services, which is exactly what distinguishes us from other tractor dealerships in Kuwait. We at Tractor Provider have experienced staff that recognizes your farming problems and offers you the best of our agricultural machinery in that respect. Not only that but we provide unmatched service, whether you buy a small implement or a combine harvester, we treat our customers with respect regardless. So to begin your farming journey, visit us today.