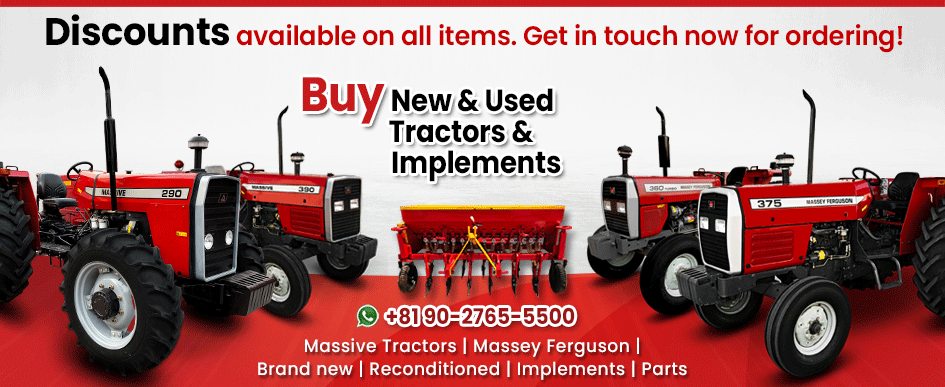 New & Used Tractors for Sale in South Africa
Brand New Massive Tractors
Combine Harvesters for Sale in South Africa
Tractors Available in Japan
Brand New Massey Ferguson Tractors
Brand New New Holland Tractors
Farm Implements in South Africa
Welcome to Tractor Provider South Africa

Tractor Provider is a Japanese enterprise that aims for the betterment of agriculture all around the world. Our online tractor dealership in South Africa provides its clients with the best available options in the international market. From top-notch tractor brands to third-party farm implements, you name it and we have it. The core problem that Tractor Provider South Africa solves is to improve the standards of farming in the country.

We are a leading online tractor dealership here in South Africa and are eager to improve the quality of lives all around the world by empowering the farmers. We give them the agricultural machinery they need to ease their lives and be productive with their time.

How is agriculture shaping the future of South Africa?

South Africa is a country that has various financial sources of income. It is highly diverse in this respect, yet agriculture plays a big role when it comes to the economy of the country. The major crops of South Africa are oil seeds, deciduous and subtropical fruits, sugar, and citrus, but Grains and cereals are South Africa's most important crops. According to a report in 2017, the total land used for commercial agriculture was 46,4 million hectares.

By the given stats we can estimate how important cultivation is for South Africa. However, according to the world bank collection of development indicators, only 9.8% of the land in South Africa is actually suitable for growing crops.

How does Tractor Provider South Africa plan to reindustrialize farming?

We, at Tractor Provider South Africa provide local farmers with brand-new tractors as well as used ones. We have the famous Massey Ferguson tractors for sale in South Africa. Other than that, the New Holland tractor lineup is also available in our inventory. These tractors are highly fuel-economic and easy to maneuver. Aside from these, we have used Japanese tractors for sale as well. Our diverse product range also consists of one of the best Combine harvesters available- the Kubota DC series.

Using these top-of-the-line tractors and other such equipment, farmers can achieve their desired goals and make their country flourish.

We also sell farm implements

We sell a wide range of farm implements in South Africa too; from rakes to a trolley, planters to seeders, choppers to spreaders all of these implements help ease the farming load. Farm implements are the things that make your tractors much more efficient and add functionality to them. Farm implements are modular so they can be best for mobility and are compatible with various tractors.

Our Company is Built upon Solid Trust

We are here on the base of your trust in us, as we have built a solid relationship with our customers over the years. Our online tractor dealership in South Africa is very old, and we are proud to be a source of revolution in the farming scene and will keep giving our best.

You can get in touch with us using the live chat feature through our website or email us at the company's official email address and check out the available stock of agricultural machinery. We hope to fulfill your tractor needs in the near future.