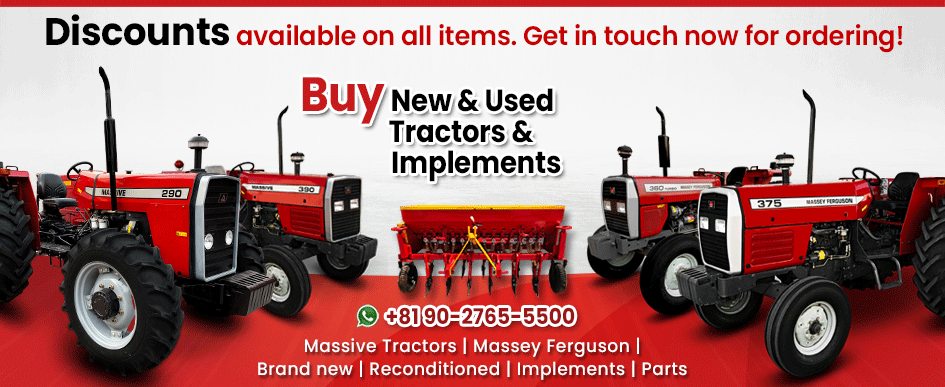 New & Used Tractors for Sale in Iraq
Brand New Massive Tractors
Combine Harvesters for Sale in Iraq
Tractors Available in Japan
Brand New Massey Ferguson Tractors
Brand New New Holland Tractors
Farm Implements in Iraq
Welcome to Tractor Provider Iraq

Tractor Provider Iraq is an all-in-one platform for our West-Asian customers to fulfill their farming/agricultural needs. We envision a promising prospect in Asian agriculture, and by establishing Tractor Provider Iraq online, we aim to help the local farmers to work with ease and efficiency. Our online dealership provides the best of the best when it comes to agricultural machinery, as we represent the top tractor brands when it comes to agricultural machinery.

The effects of agriculture on Iraq's condition

Iraq has been an unstable country for decades now. The arbitrary arrests, controversial laws, and extrajudicial killings made a seemingly rich country into a warzone. Although Iraq is one of the richest oil reserves in the world, it has been through a lot, which has damaged its reputation, impacting its GDP. That said, Iraq is primarily an agricultural country where a lot of the agricultural land is under irrigation and depends highly upon rainfall.

Agriculture contributes to 3.3% of the country's GNP, while 50 to 60 percent of Iraq's arable land has been under cultivation. The grains that grow here are primarily wheat and barley. Other crops don't account for much in the economy and are not worth noting.

How is Tractor Provider Iraq going to modernize Agriculture?

We have used tractors for sale in Iraq, as well as brand new tractors and farm implements. What Tractor Provider Iraq does is provide the locals with the proper equipment and prepare them for a new way of looking at farming.

Our tractor company in Iraq sells both used and new tractors to the local Iraqis at affordable prices. We have state-of-the-art tractors and farm implements at our disposal. To count a few, we are the prime distributor for Massey Ferguson Company in Iraq. Moreover, we have brand new Massey Ferguson tractors for sale. We also sell used combine harvesters from the Kubota series. Aside from used Japanese tractors, we also have a New Holland tractor lineup for sale.

All of these cutting-edge tractors help in making the hard farming work easier and more efficient. The extra effort can now be used somewhere more productive than mere plantation, as this is how we plan to modernize agriculture.

Farm Implements and their uses

Our wide range of farm implements is massive, from trailers to lawnmowers, offset disc harrows to ridgers, cranes to pot agriculture loader, cultivators to blades attachments, we have it all. Farm implements are the things that complement tractors as they simplify work.

Client's review

Our client's satisfaction is our first concern, and that is what we try to improve at each turn. For Tractor Provider Iraq, our clients mean the world to us, which is the reason we go through incalculable hours working on our after-deals and general administrations. Our past clients have been a perfect representation of how we regard and support the local farmers. We have been a symbol of trust when it comes to affordability, reliability, and quality of the tractors. So try us today and experience the best.