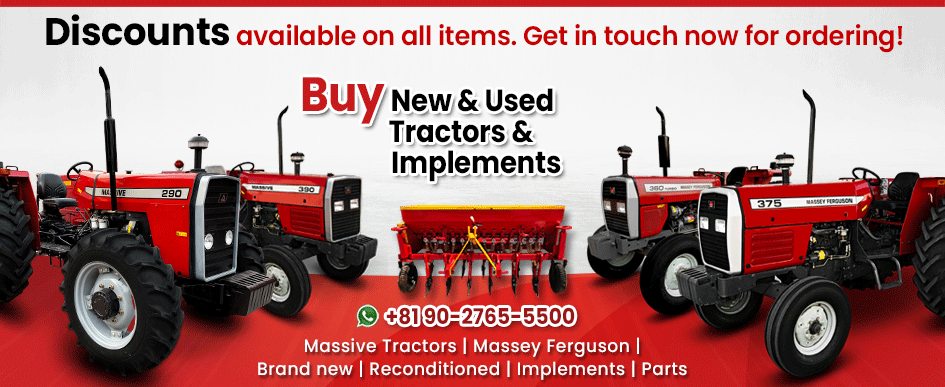 New & Used Tractors for Sale in Saint Lucia
Brand New Massive Tractors
Combine Harvesters for Sale in Saint Lucia
Tractors Available in Japan
Brand New Massey Ferguson Tractors
Brand New New Holland Tractors
Farm Implements in Saint Lucia
Welcome to Tractor Provider Saint Lucia

Tractor Provider Saint Lucia is an online platform that lets farmers find solutions to their farming needs, whether it's providing the right agricultural equipment to the local farmers or properly guiding them, Tractor Provider Saint Lucia is the place where all your farming needs are taken care of. We have a wide range of used and brand-new tractors for sale in Saint Lucia. Not only that, but we also sell farm implements of many types to the farmers.

Our online dealership in Saint Lucia brings farmers an extremely affordable pricing scheme.

History of farming in Saint Lucia

Aside from being a source of sustainable livelihood for the people of Saint Lucia, farming and agriculture contributed to about 2 percent of the GDP of the country. The main crops that grow in Saint Lucia are bananas, coconuts, cocoa beans, mangoes, avocados, vegetables, citrus fruits, and root crops such as yams and sweet potatoes.

Saint Lucia is a country with one of the poorest populations. Expanding the agriculture sector by making use of the correct and relevant equipment would help create employment opportunities in the sector.

How does Tractor Provider Saint Lucia aim to modernize agriculture?

One way that Tractor Provider Saint Lucia can modernize agriculture is by providing local farmers with the best possible agricultural machinery. Tractor Provider Saint Lucia aims to make the region self-sufficient in terms of food, which can be done by providing the locals with proper learning tools and making them adopt new methods for modern agriculture. We plan to provide the locals with proper equipment so that they can start playing their part in making the country self-sufficient and sustainable.

Types of tractors and farm implements we offer

To start, we have brand new Massey Ferguson tractors for sale in Saint Lucia, we also have the New Holland tractor lineup available for sale, used Japanese tractors, and our most-sold Kubota combine harvesters. All of the above-mentioned tractors are available in both, second-hand and brand new conditions.

Our farm implements are the attachments that enhance the utility of your tractor. Implements can include trailers, lawnmowers, disc harrows, ridgers, loaders, differs, cultivators, cranes, blades, tillers, reapers, dozers, planters, and the list goes on.

We are a tractor company that encourages small businesses and native farmers to get somewhere in life. Our main goal is to make a better life for the driving force of any underdeveloped nation- its farmers.

Moreover, our agricultural machinery is cutting-edge, from brand new Massey Ferguson tractors to used Kubota DC Combine tractors. Tractor Provider Saint Lucia prioritizes our customers' needs and choices. Customer satisfaction is a key feature of our online dealership in Saint Lucia. Our services are known all around the globe, whether it is timely deliveries, respectful behaviors, outstanding after-sales service, or customer support, we have always been the best in the business. To visit us and learn more about us, go to the 'about us' page of our official website. We will keep you up to date with the current and projected market prices.