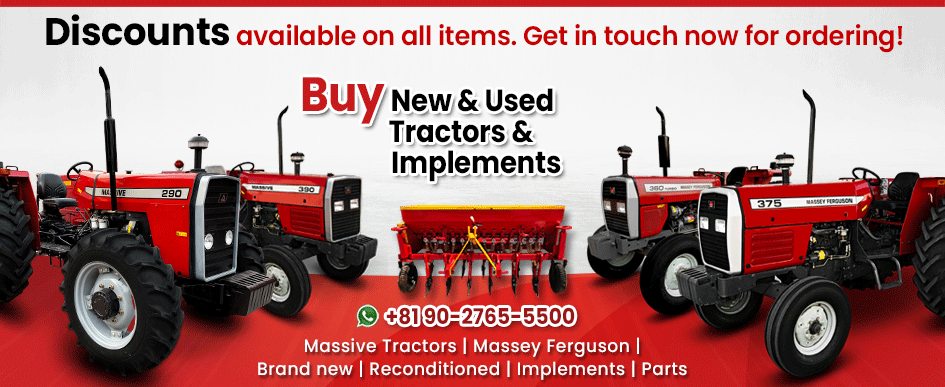 New & Used Tractors for Sale in Drc
Brand New Massive Tractors
Combine Harvesters for Sale in Drc
Tractors Available in Japan
Brand New Massey Ferguson Tractors
Brand New New Holland Tractors
Farm Implements in Drc
Get your hands on the best agricultural machinery in DRC at Tractor Provider

Even though there are many places to buy a tractor in the Democratic Republic of the Congo, one of the most well-known places to do so is Tractor Provider. Everything you need for your farm may be found at Tractor Provider. Both new and used agricultural machinery, as well as their respective attachments, are included. We also sell lawnmowers and other gardening tools. If you are a farmer in Congo, we can assist you, since we sell tractors and provide maintenance.

New and used tractors for Sale at DRC

As one of the most reputable tractor dealers in DRC, Tractor Provider imports new Massey Ferguson tractors and New Holland tractors from Pakistan. The availability of new Massey Ferguson tractors in Congo and New Holland tractors in Congo, thanks to Tractor Provider, has been instrumental in the success of local farmers. We can accommodate your expectations in terms of pricing, quality, and timeliness of delivery, if you are interested in acquiring a Massey Ferguson tractor or New Holland tractor in Congo from Tractor Provider. You may have it sent right to your door, and we are always here to answer any questions you might have.

Some farmers may find that buying a used tractor is more cost-effective than buying a brand new one. Many considerations make it tough for farmers to purchase a brand new tractor. New tractors are out of reach for some farmers, and they may have to give up their dreams of using modern agricultural machinery. The financial benefits are the most compelling argument for purchasing a used tractor. The greatest choice for a farmer in the DRC is to purchase a secondhand tractor from a Tractor Provider in Congo. Using Tractor Provider can help you get a high-quality tractor at a fair price for your farm.

Combine Harvesters for Sale in DRC

The agricultural machinery and combine harvesters sold by Tractor Provider are not only given at extremely affordable prices, but also require less money to maintain and repair. Our standard grade combine harvesters are a one-time investment that will last for several harvest seasons. We have new and used combine harvesters in store to suit all of your agricultural requirements, no matter how large or small your farm is. All of the agricultural machinery we provide is backed by a crew of experts, just in case you run into any problems.

Brand New Massey Ferguson Tractors

To ensure that your new Massey Ferguson tractor has low maintenance, go no further than Tractor Provider. Massey Ferguson tractors can be relied upon in every climate, no matter how severe the weather. They are built with superior components and cutting-edge standards, allowing for more draw bar power and traction.
Get in touch with Tractor Provider immediately with your requirements if you are seeking for durable, high-performance tractors. Our staff includes specialists in agricultural machinery who can advise you on what to buy.

Brand New New Holland Tractors

Tractor Provider is your source for new and used New Holland tractors in Congo. The fact that New Holland is the go-to brand for agricultural machinery among farmers throughout the globe speaks volumes about the brand's reliability and durability. To make life easier for farmers, Tractor Provider is prepared to provide you with top-notch goods. New Holland produces a wide variety of agricultural machinery, including tractors and ploughs. They are always innovating new products and developing automated systems to make farming simpler and more effective.
If you are looking for a reliable tractor dealer in Congo, go no further than Tractor Provider. To further tempt farmers, we now offer affordable New Holland tractors in Congo.

Farm Implements in DRC

A wide selection of farm implements designed to attach to a tractor and perform certain agricultural jobs are available from the Tractor Provider. Tractor Provider offers an extensive selection of high-quality agricultural machinery. Farmers in the Democratic Republic of the Congo are taking advantage of the vast improvements in agricultural machinery and tractor tools. Machines including disc ploughs, disc harrows, hydraulic tripping trailers, and forage choppers are all available for purchase in Congo.
Get in touch with us by WhatsApp or fill out the online form to get a price list for our assortment of agricultural machinery, as well as information on the most convenient methods of shipment. If you have any questions, a member of our customer-focused sales team will get in contact with you shortly.