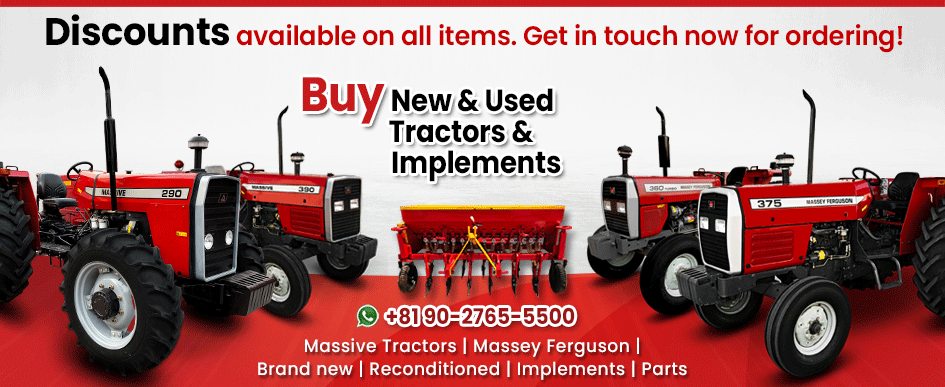 New & Used Tractors for Sale in Tonga
Brand New Massive Tractors
Combine Harvesters for Sale in Tonga
Tractors Available in Japan
Brand New Massey Ferguson Tractors
Brand New New Holland Tractors
Farm Implements in Tonga
Welcome to Tractor provider in Tonga

Agriculture is a major market in the world and Tonga has a huge agriculture market as well. Modernised agriculture requires modern technology and equipment. Technology and other modern equipment not only reduce the labour costs but also provide you with greater yields. Saving a lot of time is also very important because crops require a specific time frame for better production.

The agriculture sector of Tonga contributes 16% of Gross Domestic Product (GDP) and, including forestry, provides 44% of exports. About 75% of Tonga's population lives in rural areas, with agriculture as their main source of livelihood. Tonga has one of the highest rates of food production amongst Pacific Island Countries. Hence you need to have modern technology and tractors in Tonga to effectively produce your food supply.

How Tractor provider plans on facilitating the people of Tonga

Tractor provider is the best tractor company in Tonga. With the brand new tractors for sale as well as used tractors for sale, Tractor provider is here for your help. We want to facilitate the people of Tonga by supplying an unmatched quality of tractors for sale. This way the crop yields and production will know no bounds. There is an immediate need for tractors in Tonga and we have taken that responsibility upon our shoulders. Tonga depends a lot on its agricultural economy and they need their agriculture market to grow exponentially. Hence we have the best tractors for sale to make your life a bit easier.

What kind of tractor options does Tractor Provider have

Tractor provider has a huge range of tractors. We have tractors like 2WD and 4WD Massey Ferguson tractors for sale. Other options that we possess include New Holland tractors for sale. Both of which have a strong reputation in the tractor market. Local farmers can get their hands on our brand new Massey Ferguson tractors in Tonga, as well as other used Japanese tractors by getting in touch with us.

Budget may be an issue for some people as many of them don't possess hefty financial resources. We have solutions to all your problems as we offer efficient agricultural equipment on take-away prices.

The farm implements that we deal in

Only tractors are not enough for farming, as farmers also require other Farm implements and equipment. Having Farm implements in Tonga given the nature of the farmland is necessary. We have a lot of farm implements for sale as well. Apart from tractors, we also specialise in other agricultural equipment such as heavy-duty combines/harvesters, as well as various tractor implements like loaders, hydraulic tipping trailers, ploughs, harrows, reapers and many new or used combine harvesters.

You should trust us

Our main motto isn't the sale of our tractors, rather we value your trust the most. Our utmost respect and care for customers is entirely built upon the trust that our customers have on us.

You can contact us using the live chat feature through our website or email us at the company's official email address and we won't disappoint. You can get to know about our inventory from our website. We look forward to doing the best we can do for you.