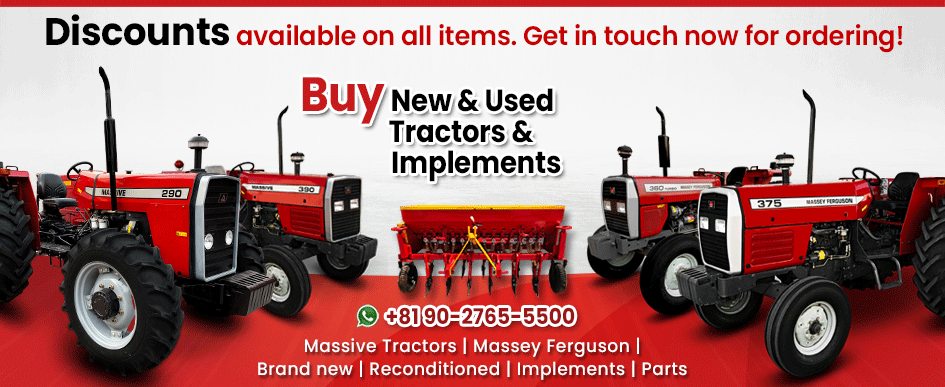 New & Used Tractors for Sale in Lebanon
Brand New Massive Tractors
Combine Harvesters for Sale in Lebanon
Tractors Available in Japan
Brand New Massey Ferguson Tractors
Brand New New Holland Tractors
Farm Implements in Lebanon
Welcome to the Tractor Provider Lebanon

At Tractor Provider Lebanon, we serve innumerable clients, belonging to various regions of the globe. We offer remarkable and long-term agricultural solutions for empowering the farmers to become independent and self-sufficient in terms of crop growth. We deal in advanced and inventive agricultural machinery that has been serving the industrial and commercial sectors to increase their overall productivity.

The tractors that are available at our online stores, mainly Massey Ferguson Tractors and New Holland Tractors have paved the way for enhanced crop production, by assisting farmers in their everyday agricultural functions. Our tractors and farm implements are quite easy to operate enabling the farmers to operate them without any difficulty. Our farm implements and tractors are built with rough and tough materials for the execution of strenuous agricultural operations.

Furthermore, the combine harvesters that we offer are considered to be one of the favorite tools of farmers as these harvesters can execute multiple tasks at one time, resulting in a higher yield of crops and conservation of time.

Economic dependence on agriculture

The agriculture of Lebanon is scarcely developed due to which the economic development of the country is hampered. The farmers face numerous agricultural hindrances in terms of depleted resources, poor development of the irrigational system, soil erosion, salinity, and many more. All these factors have contributed harshly to the agricultural crisis of Lebanon.

A thorough yet sustainable agricultural system can be deployed in Lebanon with the help of Tractor Provider Lebanon which involves the systemic supply of farm implements and other necessitated agricultural machinery. Thus, by a continuous supply of agricultural machinery, a well-organized agricultural system will be maintained which will directly contribute to the economic development of the country.

With the supply of our farming tools to the farfetched and unapproachable areas, the farmers can attain a higher yield of crops, benefitting the economic development on one hand, while on the other hand earning a better livelihood for themselves.

Our promise our motive

Tractor Provider Lebanon is considered to be one of the genuine and trusted tractor dealer company, providing a diverse range of imported and highly specialized agricultural machinery that is responsible for assisting the farmers in their core agricultural ventures. Used Japanese tractors also constitute a considerable part of our inventory, enabling the budget-restricted farmers to exploit the available resources with full potential.

We promise to deliver quality as we strive tirelessly to provide versatile agricultural equipment at affordable rates. Our farm implements are reliable enough to complete the agricultural tasks in minimum time and with reduced efforts. We aim to bring ease to the life of farmers with the help of used and brand-new tractors.

Explore our website and our diverse inventory to find the best tractor at the most affordable rates.