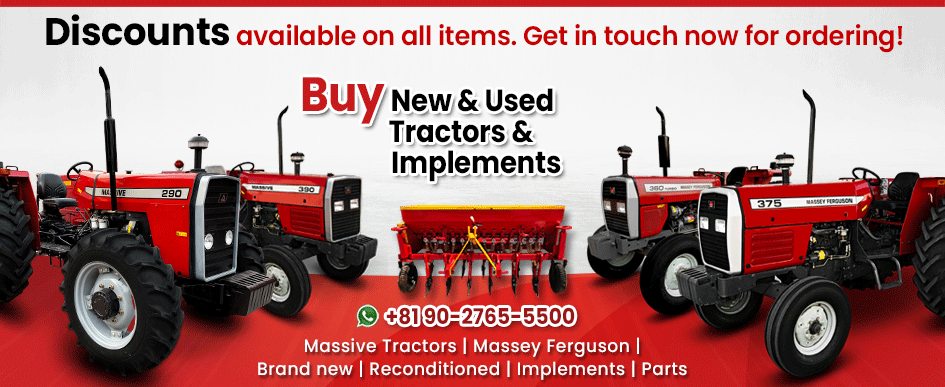 New & Used Tractors for Sale in Togo
Brand New Massive Tractors
Combine Harvesters for Sale in Togo
Tractors Available in Japan
Brand New Massey Ferguson Tractors
Brand New New Holland Tractors
Farm Implements in Togo
Welcome to Tractor Provider Togo

Tractor Provider has spread its wings to the country of Togo. Tractor Provider Togo brings you the best solutions for your farming needs. We are leading online tractor dealers that provide the best quality tractors along with suitable farm implements. Tractor Provider Togo aims to see the underdeveloped countries play their part in becoming financially sound so they can improve their standard of life. We give locals agricultural machinery they need to ease their lives and be productive with their time.

Togo's Potential in the Agricultural Sector

Togo's economy benefits from several factors that eventually add up to the county's GDP. Despite that, Togo is fundamentally a poor country. Its poor infrastructure often hinders foreign investment in agriculture which is why they rely on exports. The main crops that grow there consist of corn, sorghum, rice, yams, manioc, peanuts, beans (famously – coffee beans and cocoa beans), and soy.

Agriculture is one of the major industries and generates about 42 percent of GDP for the country. Togo has arable land of about 50 percent according to a report submitted by the world bank collection of development indicators in 2018.

How Tractor Provider is Promoting Agriculture in Togo

We, at Tractor Provider Togo are taking baby steps in the right direction, as we aspire to cover the arable land and make use of it in a well-fashioned manner over time. Our aim is to make the local farmers of Togo learn to plant, and harvest their crops efficiently, which can only be done with proper agricultural machinery. This will not only help them consume time efficiently but also increase the crop yield.

What do we offer?

What we offer is an extensive range of both local and imported brands of tractors. We have the most reliable brands of tractors amongst all tractor companies in Togo, as we have brand-new Massey Ferguson Tractors for sale, as well as used MF tractors on extremely affordable prices. We also have the lineup from New Holland Tractors and used Japanese tractors, as well as our best-seller Kubota DC Combine Harvesters. All of the mentioned equipment come in both used and new conditions.

We are proud to be the only online tractor dealer in Togo to provide its customers a world-class experience from start to finish. We are devoted to keeping our customers' needs on top of everything.

Farm Implements and their usability

Farm implements mean hand tools or machines ordinarily employed in a farm enterprise, but in reality, they are more than this. These implements are what increase a tractor's usability and effectiveness. We provide a wide range of farm implements in Togo, which includes rakes, slashers, planters, trollies, diggers, loaders, cranes and so much more.

Buying implements from us is one of the best investments a farmer can make, especially a farmer on a budget.

Get to know us more

To get in touch with us, you can check our website and go through our inventory. Contact us today and begin farming the way it is meant to be done.