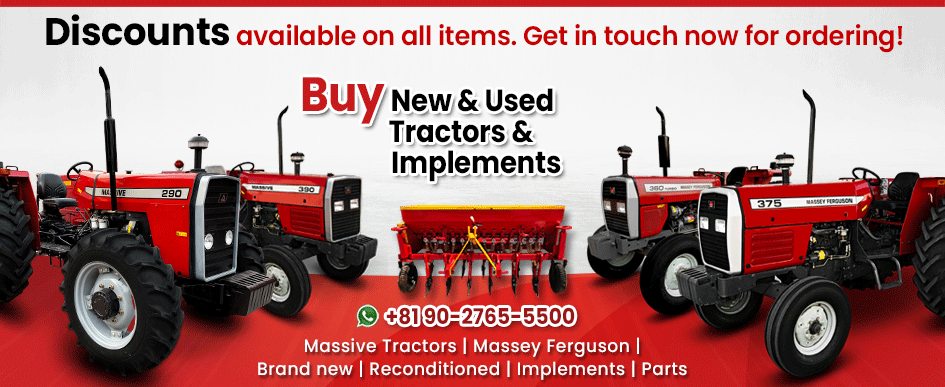 New & Used Tractors for Sale in Trinidad Tobago
Brand New Massive Tractors
Combine Harvesters for Sale in Trinidad Tobago
Tractors Available in Japan
Brand New Massey Ferguson Tractors
Brand New New Holland Tractors
Farm Implements in Trinidad Tobago
Tractor Provider Trinidad and Tobago is the ultimate answer for all your concerned agricultural questions. All your mechanized needs, be it buying a new tractor or a used one, purchasing a highly demanded farm implement, or commercial agricultural machinery, every agricultural commodity is available here, under one roof! You can rely on our widespread inventory unquestionably.

We are the seamless tractor dealer company in Trinidad and Tobago that you have been looking for. Our farm implements and modernized tractors are fully developed keeping in mind the changing dynamics of technology. We strive very hard to provide modernized farming tools with ease to the farfetched areas of the globe where modern agricultural resources are unreachable. We believe to sustain a constant supply of easy-to-use tractors namely Massey Ferguson Tractors and New Holland Tractors which have proven to be the best probable solution for improving productivity in the farms of Trinidad and Tobago.

Agriculture and economic development are interdependent

The agriculture of Trinidad and Tobago is currently in the developing phase due to which it only contributes approximately 0.5% to its GDP. While being reluctantly functional, it is able to generate only 4% of the total employment opportunities for its citizens. The major cash crops grown in the twin-island country are rice, cereal, citrus fruits, vegetables, and cocoa.

The agricultural contribution of Trinidad and Tobago to its economy is comparatively low, however, there exists a huge population of farmers, whose livelihood is solely dependent on the farming of crops. Moreover, there exists an arable area of land that can also be utilized for farming by the farmers.

How Tractor Provider Trinidad and Tobago can help the farmers in the expansion of agricultural land?

For expansion of the agricultural land, the essential farming resources particularly agricultural machinery, highly equipped farm implements as well as modernized tractors should be easily available to the farmers. For keeping a balanced supply of agricultural machinery, Tractor Provider Trinidad and Tobago play a very vital role. They have access to all the world-class agricultural machinery which not only helps in the expansion of agricultural land but also reduces the strenuous input of the farmers. Moreover, the used combine harvesters that are an integral part of our inventory reduce the load on farmers by performing all harvesting tasks at once.

Your trust is our weapon of success

We are a company of hundreds of employees, operating from a number of countries, working for the improved status of farmers. We are diligently working beyond our potential to provide top-notch agricultural machinery in the form of farm implements and tractors to your doorstep. Our farming tools are of superior quality, performing tirelessly with versatility and perfection in every agricultural task. Our enchanted and appealing characteristics such as on-time delivery, remarkable customer service, and genuine product dealership make us unique and distinctive. Consequently, we have been successful in gaining your trust and enormous support. With your continued loyalty, we are growing each day and in no time we are expanding our business to Trinidad and Tobago as well but via online means.

For more detailed information about our in-stock inventory of agricultural machinery contact us now at [email protected] or inquire directly through our live chat feature.