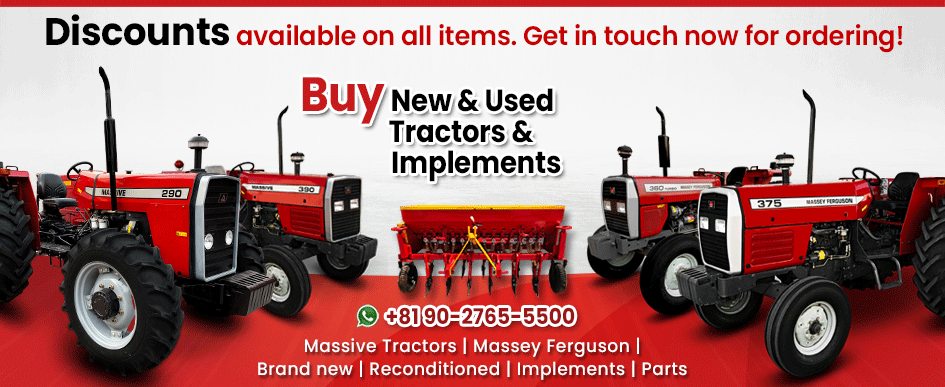 New & Used Tractors for Sale in Lesotho
Brand New Massive Tractors
Combine Harvesters for Sale in Lesotho
Tractors Available in Japan
Brand New Massey Ferguson Tractors
Brand New New Holland Tractors
Farm Implements in Lesotho
Welcome to Tractor Provider Lesotho

Tractor Provider has expanded once more in the southern region of Africa. Lesotho is a high-altitude, landlocked country, and agriculture is its main source of generating GDP. In this respect, Tractor Provider Lesotho aims to increase the economy of the country by encouraging their locals toward farming by providing quality products online.

Tractor Provider Lesotho is a company that is aimed to work hand in hand with the farmers by providing the necessary equipment. We are the place where all your farming problems get solved, from top-class tractors to utility farm implements that reduce human effort by more than a fraction.

Agriculture in Lesotho

The agriculture sector accounts for about 17 percent of GDP. The major crops of Lesotho include maize, sorghum, wheat, and beans.

Well, Lesotho is an agricultural economy, there are a lot of problems facing the people of Lesotho, such as overgrazing, erosion, land degradation due to floods, droughts, and threats of climate change. However, more than 50 percent of the country's population is related directly or indirectly to farming.

Despite being an agricultural country, Lesotho can't grow enough food to feed its rapidly growing population, which is due to the problems mentioned earlier.

We can Help the Local Farmers of Lesotho fight their problems

Tractor Provider Lesotho is the online tractor dealership in Lesotho that provides you with quality agricultural machinery: the type of machinery that lets farmers fight harsh soil conditions, and make efficient use of time and space. Our main goal is to prevent any sort of problems facing farmers, as our advanced tractors are suited for every possible condition.

Moreover, our implements make farming much more efficient than the old-fashioned farming ways. These implements include the likes of ploughs, farm trailers, lawnmowers, hole diggers, agricultural loaders, cultivators, cranes, planters, rakes, and many more. With these tools by our side, we believe that we can make Lesotho a self-sufficient country.

Brands we work with

We are proud to say that we are the only online tractor dealership in Lesotho which has collaborated with the greatest names in the industry. We have Massey Ferguson tractors for sale, both in new and used condition. Aside from that, we sell the New Holland tractor series as well as used Japanese tractors. Lineups like Kubota are one of our best-sellers. Kubota's massive DC- series combine harvesters with high HPs, can be used on large farms to seed, hoe, and harvest with ease.

Tractor Provider Lesotho and their credibility

We, at Tractor Provider Lesotho are eager to help the local farmers of Lesotho, and we believe it can only be done by providing them with the right tools in an affordable range. That being said, our tractor company deals since the 90s worldwide, not only do we sell tractors and farm implements, we give our customers unmatched services. We hope to see the economy of the country and the standards of locals increase in return of our efforts one day.

For more on who we are and what we do, you can get in touch with us. Email us at the company's official email address, and check out the available stock of agricultural machinery. We hope to fulfill your tractor needs.