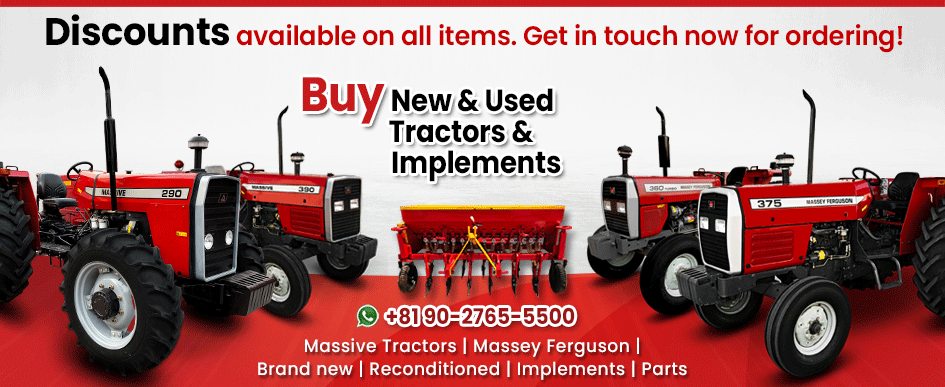 New & Used Tractors for Sale in Ethiopia
Brand New Massive Tractors
Combine Harvesters for Sale in Ethiopia
Tractors Available in Japan
Brand New Massey Ferguson Tractors
Brand New New Holland Tractors
Farm Implements in Ethiopia
Utilize our high-quality machinery to take your agriculture process to the next level.

Want to have a set of equipment that will improve your harvest? You have us to count on. Our tractor company in Ethiopia is here to ensure that the farmers here are assisted and get what they need. Tractor Provider is a well-known agricultural machinery company and Ethiopia's best tractor dealer.

Ethiopia's huge tracts of rich land, diverse climate, generally enough rainfall, and enormous labor pool give it great agricultural potential. However, Ethiopian agriculture, despite its promise, has remained underdeveloped. With our tractors in Ethiopia, this can change. Farm Implements in Ethiopia can also be a game-changer for our farmers. The benefits of our products are endless as we sell high-quality and dependable automation. We have brand new tractors for sale from the Massey Ferguson company in Ethiopia and many others.

Find the tractor that's ideal for you.

We have tractors from the top tractor companies around the world. We want nothing but the best for our Ethiopian farmers so we provide you with multiple alternatives on our website. We have tractors for you that have 85 HP such as the Massey Ferguson 385 which is the right choice for a larger farm. This model is part of our popular Massey Ferguson Tractors for sale. For smaller farms, tractors of 40 HP or lower are considered appropriate such as the Used Kubota / L1-18 or the Used Kubota / GL22. These models are used Japanese tractors for sale which can be useful for farmers on a budget.

These used tractors for sale won't disappoint in terms of condition or quality as we ensure proper checking with our used products and Japanese tractors are used worldwide. Brand new Massey Ferguson in Ethiopia is helping us to supply you with tractors of differing HP that will cater to your specific needs. There are New Holland Tractors for sale such as the New Holland 480S with 55 HP or the New Holland Al Ghazi with 65 HP. To get more advice on what is more appropriate for your farm and needs you can phone or email us. Our professional personnel will walk you every step of the way and ensure full customer satisfaction.

Why stop at Tractors?

We have tools and machinery that will enhance your soil and lower its disturbance such as our combined harvesters. Farm implements can be a simple way to decrease the burden of your farm. We have seeding equipment that can help make sure you achieve the results you want. Many farmers struggle due to their poor soil quality, so let us assist you. We also have sprayers, harrows, sickles, and cutters. Additionally, we have numerous Farm Implements for sale and used Combine Harvesters. We have a list of our products on our website that you can check out.

We want the best for you, do you?

Don't be limited; expand your mechanization and get the rewards. Tractor provider is here to revolutionize your agricultural process by bringing top-of-the-line tractors and implements to your reach. Our website provides a variety of options for your consideration, and we are here to help you in any way we can. Please don't hesitate to contact us if you have any additional questions, and we'll do our best to find you the best equipment for your needs and budget.